On the 1st of July 2019, #Kenyans woke up to the shocking and devastating news that Safaricom CEO Bob Collymore had died from Leukemia, a type of cancer. Collymore began receiving treatment for leukemia in 2017, however, his condition worsened weeks after. The late Collymore joined millions of Kenyans currently affected by cancer.
The #WorldCancerDay is an international day marked on February 4th to raise awareness of #cancer, and to encourage its prevention, detection, and treatment.
The primary goal of World Cancer Day is to significantly reduce illness and death caused by cancer which can occur at any age and time.
World Cancer Day is an initiative of the Union for International Cancer Control (UICC), which is an organization dedicated to advocating against cancer.
Cancer is a medical condition in which mutation of cell leads to abnormal and uncontrolled multiplication of cells, in one organ or part of the body. These groups of malignant cells migrate and invade other parts of the body through blood & lymph, leading to cancer "HCG CCK 2021".
It is the third leading cause of death in Africa. The annual incidence of cancer in Kenya is about 28 000 new cases with an annual mortality of 22 000 cases, that is, 78.5% of the patients do not survive "WHO cancer country profile 2017".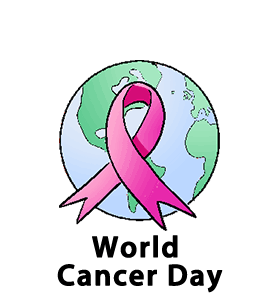 According to the World Health Organization, only 50% of low- and middle-income countries have operational National Cancer Control Plans. The increasing number of cancer cases in Kenya over the past decade, resulted in legislative actions and policies to guide delivery of cancer services.
Cancer in Kenya is such a big problem that health insurance companies such as Old Mutual and BRITAM now offer exclusive cancer plans. Cancer like many other illnesses used to be misdiagnosed and mistreated but the deaths of prominent Kenyans such as Nobel Laureate Professor Wangari Maathai, Politician Dr. Joyce Laboso, Journalist Janet Kanini and former Safaricom CEO Bob Collymore to the disease, it is now well known and fought.
Early detection and correct diagnosis are keys to planning the right treatment.
The most common causes of cancer are:
Smoking and Tobacco
Diet and Physical Activity
Sun and Other Types of Radiation
Viruses and Other Infections
Genetics
In Kenya, the best cancer treatment centers include Texas Cancer Centre, HCG CCK Cancer Centre, Kenyatta National Hospital and MP Shah Hospital.
As we commemorate this day, have you done your annual check-up? A check -up cost between 10,000 kshs and 25,000 kshs depending on the insurance cover. Remember as with all diseases, cancer is not a death sentence. If detected early, it is possible to treat it, and improve quality of life.
#transolutionservices #trainingwithtransolution
Sources: https://www.worldcancerday.org/about/2019-2021-world-cancer-day-campaign